Our Services
Plasterboard Work:
We offer a huge range of plasterboard options to suit all environments. We've vast experience with acoustic board, fire board, insulated board, moisture stop boards AND specialist plasterboard solutions like radiation shileded boards & bespoke hanging systems.
Contact Us
NOW to find out more.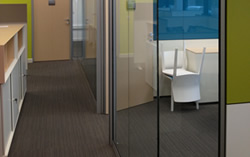 Glazed Partitions:
High-spec glazed partitions can give a new office a real "wow factor" and our systems are even sleeker than most. With almost invisible ultra slim rails & fixings as well as a range of specialty glazing options, we have a solution for every situation.
Contact Us
NOW to find out more.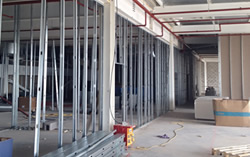 Metal Stud Partitions:
For ultimate precision, durability & flexibility, it's hard to beat a metal stud partition system installed by an experienced team of contractors. Whatever the design - no matter how complex - we have a solution to suit you.
Contact Us
NOW to find out more.
Suspended Ceilings:
Suspended ceilings are a specialty for us. No matter what type of ceiling you need, what type of tiles or board, no matter the complexity of the design - our highly trained & experienced team can handle the job with ease & complete the project on schedule.
Contact Us
NOW to find out more.
Joint & Skim Finishes:
No matter how small the project, we know that a perfect finish is essential every time, and we believe our attention to detail & care about finishing touches is the reason our business is continuing to be recommended by past clients year after year.
Contact Us
NOW to find out more.
Why Choose Us?
Precision Interiors is one of Cork's leading suspended ceiling and partitioning specialists with over 10 years experience of both commercial and industrial refurbishment projects on a sub-contract, or direct contract basis.
1

We Have The Experience

We've completed projects with some of Ireland's leading construction companies

2

We Have The Man-Power

No matter how large the project - we have the man-power you need.

3

We Have The Reputation

Our attention to detail on every project means we have excellent references.
Our ceiling and partitioning services include:
Specialist cladding - eg. Radiation Proof
Skimcoat Plastering
We are also able to provide electrical works and decorating should this be required.